Dave Ritter Rock Biography
Dave Ritter has been the cornerstone for the Queensland music industry for over a decade.
His explosive voice has earned him a reputation as an energetic "live" performer, making him the envy of his peers.
Growing up in the hamlet of Queensland's Hervey Bay in the 70's, Dave could see no other path in life but his music. Even at 14, Dave would sing and play as though his life depended on it. His musical influences were wide, even for a youth of the 70's and Dave loved to listen to heavy bands like Kiss, Deep Purple, Uriah Heep, Judas Priest and Led Zeppelin. In contrast, soft rock bands like Boston,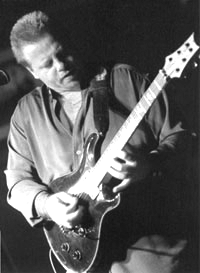 Bad Company and Kansas were a staple part of this young musician's listening.
The influences can be heard clearly on this album with raunchy tracks like "Gimme Gimme Good Lovin", "Whatever it Takes", and "Walk on the Edge". Softer rock numbers like Brian Cadd's tune "Every Mothers Son" and "Easy Money". But I believe Dave's true strength lies in his ballads, and boy can he belt out a great ballad. There are several on this album like "In a Little While", "Lost in Your Eyes" and "Where Were You".
His achievments as an entertainer include working with some of Australia's finest talents such as The Choirboys, The Poor, Chocolate Starfish, The Angels, Jon English, Ted Mulry Gang, Angry Anderson, Swanee and Brian Cadd.
Dave recorded his first single in 1994 for Polygram with Vanetta Field. The song, a remake of the Creedence Clearwater Revival song "Have you ever Seen the Rain" was released nationally in December 1994 and sold out by Christmas. All proceeds from the sale of the single were donated to the Farmhand Drought Appeal.
Dave completed his debut album "Walk on the Edge" (produced by Australian producer Brian Cadd) in 1998. From this album he released his second single "Lost in your Eyes" last year. This has had a huge response all over the country. A music video of this song is currently being shown on CMT.
The Dave Ritter Band has now completed three tours in Germany where the response has been overwhelming. This third tour will definately not be their last!
The Band has performed at various venues from intimate pubs to large outdoor festivals and rodeos. Dave Ritter himself is also the only artist ever, to have been invited to play at the Annual Purga Creek Rock Concert for seven years running. The Dave Ritter Band has the ability and versatility from their extensive repertoire to adapt their shows to suit their audience requirements.